The Verdict HG
(Thee Desperado x Belle Staar)
Straight Egyptian Stallion, Black, 1995
Breeder: Marilynn Geurin/Texas
Owner: La Fame Arabians

back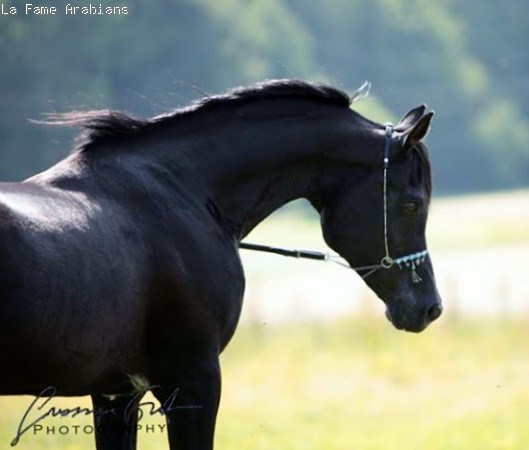 Thee Desperado
The Minstril
Ruminaja Ali
Bahila
AK Amiri Asmarr
Theegyptianprince
Asmarr
Belle Staar
The Minstril
Ruminaja Ali
Bahila
Alia-Aenor
Theegyptianprince
Hasnaa Albadeia
SCID clear

The Verdict HG is the fullbrother of The Vision HG ,the mother of Al Lahab. He was at different studs for breeding,in France at Rih El Janoub,in Sweden at the famous Löhnhult-stud in germany at Blue Nobilty Arabians and at Polar Arabians and for one year he was in Israel.
The verdict is a stunning producer His progeny is succesfully in the showring,some are retained at future breedinghorses in different studs and countrys.
He consistently passes on to his foals the extrem type with an perfect neck and very short, dished heads.
And very important for us is his wonderful gentle and sweet personality. Also he is very well ridden and always easy to handle.
He was shown in the USA where he was Junior Champion at Region XV and Top Five at the Egyptian Event.
In 2007 he got the 3rd place at the Egyptian Event in Israel.
He was in different countries for breeding and everywhere he left very promissing foals and in the meanwile he is a grandfather.


Results
• Jun.champ. region XV USA • Egypt.Event top five USA • Egypt.Event 3rd place Israel